Intelligent Mobile Solutions for Personalized and Relevant Information
What if smart phones could "sense" who we are, where we are and what was important to us? Imagine if they could deliver personalized and relevant information to us based on our contextual environment, needs and interests while protecting our privacy. 
Now that solution exists!
Flybits addresses the problem of information overload and the opportunity for providing personalized and relevant content to mobile users. Employing patent-protected context-aware technology, the Flybits platform and applications deliver relevant, timely and location-based information to targeted mobile users (employees and customers).
Flybits allows any company or user to deliver intelligent mobile solutions on an international scale. Using Flybits everyone can build, deploy and benefit from context-aware services and mobile analytics. Customers, employees, suppliers: everyone you touch will enjoy the ultimate mobile user experience, receiving exactly the information they want or need at exactly the right time. Flybits creates opportunities – connecting people and places to possibilities™.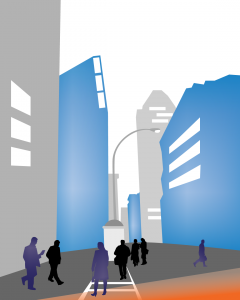 Flybits – Greater Than the Sum of its Parts
Flybits' corporate value lies in its' comprehensiveness as an end-to-end complete context-aware mobile solution for enterprises across several vertical sectors. Organizations can use Flybits software platform to optimize the mobile customer experience by:
Disseminating information to users in real-time through the creation of semantic-driven geo-fences
Associating business rules with Flybits Apps through simple drag-and-drop functionality
Safeguarding user privacy in accordance with Privacy by Design Standards
Gain insight through mobile usage analytics, resulting in improved content
and services
Implementation of a Cloud-based and PaaS architecture, enabling a flexible,
low cost delivery model that is scalable, easy-to-use and update
Flybits LITE is a Flybits software product that empowers consumers to create and consume information in new ways. With Flybits LITE, mobile users can create zones instantaneously in order to provision mobile applications and services using an intuitive and visual web-based interface. Flybits LITE is a social network enabling real-time engagement and collaboration inclusive of locations such as buildings, physical spaces and the world. Download Flybits LITE brochure
Background
Flybits was founded by Dr. Hossein Rahnama and a group of forward-thinking Computer Science graduates from Ryerson University, to commercialize a cloud-based platform for creating applications that deliver the ultimate mobile user experience. In 2012, Rahnama was recognized as part of MIT's Technology Review magazine's 2012 list of the world's top innovators under the age of 35 along with the founders of Dropbox, Spotify and Pinterest. He is honoured for his groundbreaking work in context-aware and cloud computing platforms that can provide relevant information to mobile users while giving them full control on their privacy.
Flybits is a spin-off of Ryerson University, located in the Digital Media Zone with the participation of MaRS Innovation. The company is headquartered in Toronto, Canada, with an office in the United Kingdom located in London's Tech City. One day, every corner of the earth will be Ubiquitously Relevant, thanks to Flybits' empowered mobile services.