Flybits Air

Flybits Retail

Flybits Connected Car

Flybits Transit
Intelligent Mobile Solutions for Personalized and Relevant Information
What if smart phones could "sense" who we are, where we are and what was important to us? Imagine if they could deliver personalized and relevant information to us based on our contextual environment, needs and interests while protecting our privacy. 
Now that solution exists!
Flybits addresses the problem of information overload and the opportunity for providing personalized and relevant content to mobile users. Employing patent-protected context-aware technology, the Flybits platform and applications deliver relevant, timely and location-based information to targeted mobile users (employees and customers).
Flybits allows any company or user to deliver intelligent mobile solutions on an international scale. Using Flybits everyone can build, deploy and benefit from context-aware services and mobile analytics. Customers, employees, suppliers: everyone you touch will enjoy the ultimate mobile user experience, receiving exactly the information they want or need at exactly the right time. Flybits creates opportunities – connecting people and places to possibilities™.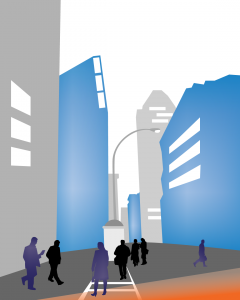 Flybits – Greater Than the Sum of its Parts
Flybits' corporate value lies in its' comprehensiveness as an end-to-end complete context-aware mobile solution for enterprises across several vertical sectors. Organizations can use Flybits software platform to optimize the mobile customer experience by:
Disseminating information to users in real-time through the creation of semantic-driven geo-fences
Associating business rules with Flybits Apps through simple drag-and-drop functionality
Safeguarding user privacy in accordance with Privacy by Design Standards
Gain insight through mobile usage analytics, resulting in improved content
and services
Implementation of a Cloud-based and PaaS architecture, enabling a flexible,
low cost delivery model that is scalable, easy-to-use and update